The Garden: more than a bilingual school in Paris' 15th arrondissement.
Paris
The Garden – Theodore Deck welcomes your child into a warm immersive environment all in english. Children are immersed and familiarised with english, progressing more and more with each new day. From a young age they discover and a plethora of new activities by teachers specialised in their domains. Much like a bilingual school in Paris' 15th arrondissement, our school gives children an opportunity to discover the world through english.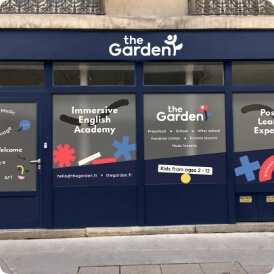 Your English school is located in the south of the 15th arrondissement.
In the South of the 15th arrondissement, in the Convention area, between Rue de la Croix Nivert and Rue Vaugirard, two hops from le metro lines 12 and 8, Theodore Deck Welcomes children into a big space of 140m2. Our school is only a 5 minute walk from the Square du clos Feuquière.
Preschool
Children from 2 to 3 years old discover the world and themselves through creative and artistic experiences from their very young age. They are encouraged to grow through music, art, practical Montessori activities, and Emilio Reggio and Frenet methods. At the Garden they will grow and flourish!
School
Much like a bilingual school in Paris' 15th arrondissement, our school welcomes children from 2 to 5 years old, broadening their horizons, developing their critical thinking, large and fine motor skills, all in an immersive environment where passions and growth are nourished.
After school
Des activités extrascolaires sont à découvrir après l'école ou les mercredis par exemple. L'occasion de découvrir des activités plus stimulantes les unes que les autres et de continuer de s'épanouir un peu plus chaque jour tout en poursuivant son apprentissage de l'anglais.
Music Lessons
Our music program provides children with a fun and interactive way to discover their musicality. From percussion to the string instruments children develop their creativity, self expression and curiosity. At the Garden we use the Orffshulwert method which ensures they'll enjoy a day rich with discovery.
Private Lessons
Private lessons accompany children on a one to one basis, adapting to their rhythm. They are great to improve english in a more tailored way, adhering to the child's proficiency.
Vacation Camps
Our vacation camps are a great way to occupy children during the vacation. Immersed in English they'll enjoy many different activities, from music to art, from STEM to english. Aimed at developing critical thinking our camps have themes so children discover the world and its history.
Contact us
Do not hesitate to contact us for further information or admissions. We will get back to you!