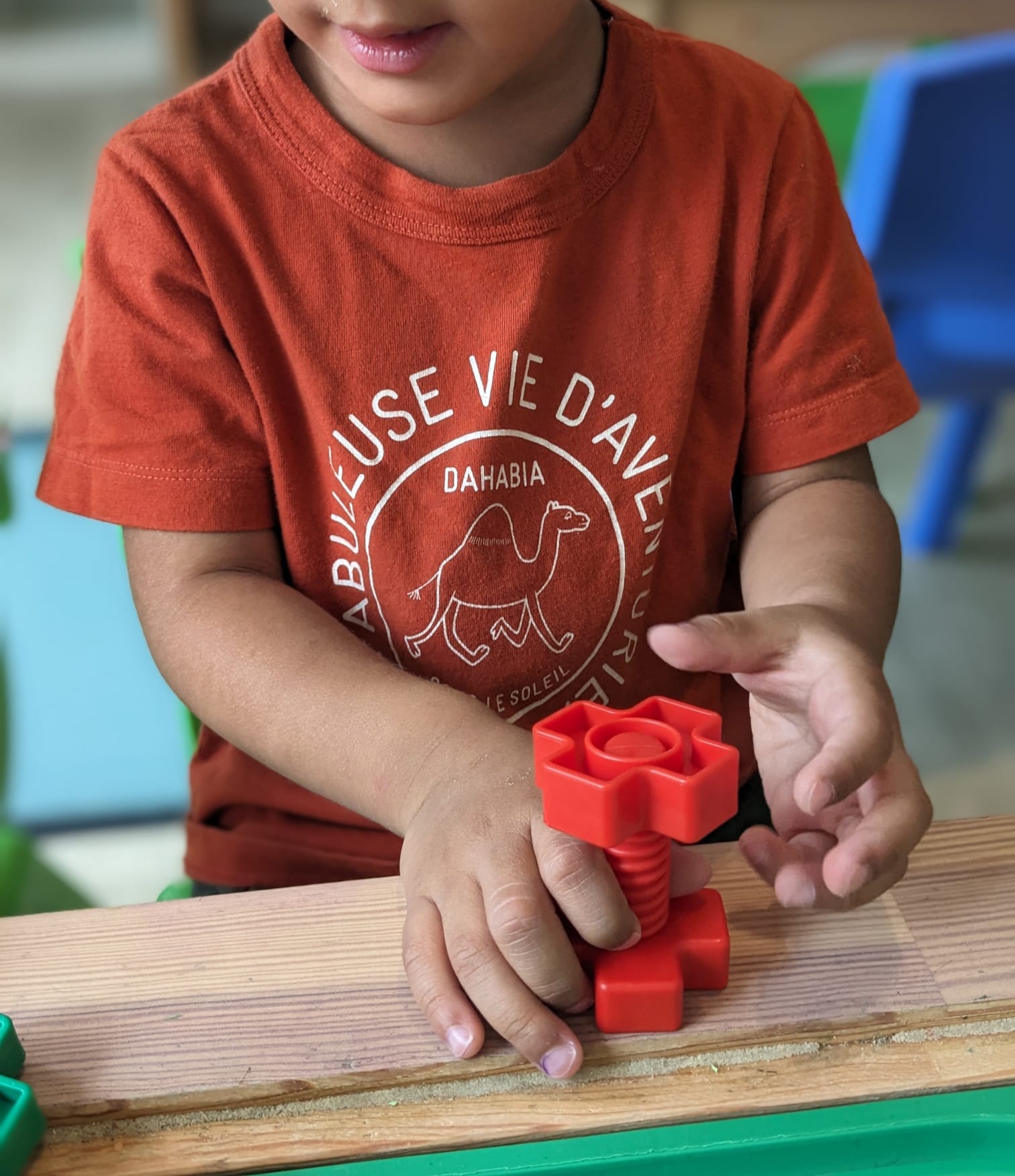 Unlock the Magic of Bilingual Montessori Learning
At the Garden, our professional educators use a unique approach to guide our little Gardeners using integrated and experiential learning philosophies, such as Montessori, Waldorf, Reggio, and Freinet. Arguably, the most popular method of these four methods is Montessori. Of course, you've heard of it, but what has made it such a sought-after learning method for young children?
At our bilingual preschools in Paris, we incorporate the Montessori Method through weekly Montessori workshops. In these workshops, our students demonstrate the Montessori method's foundation through self-directed activities, hands-on learning, and collaborative play. Our little ones carry full autonomy in projects like cutting strips of paper with scissors, mixing up a big batch of cookies, expressing through paint and washing up their tools when they're finished, and far too many other activities to list!
However simple these activities seem to us grown-ups, they are empowering, engaging activities for our little ones that allow them to employ their full autonomy, showing us that not only do they want to do these things for themselves, but they can do it on their own!
But at The Garden, the Montessori method provides students with even more benefits than the average Montessori learning program. At our bilingual preschools in Paris, students benefit from experiential learning, building their autonomy and feeding their curiosity while employing two languages!
Our Bilingual Montessori Preschool in Paris
Our 3 bilingual preschools in Paris (Paris 5, Paris 7, and Paris 15) offer our unique approach, which includes the integration of the Montessori method in both French and English!
Students learn in English for the first half of every day; after lunch, it's time for French!
Studies show that acquiring a new language is easiest for children from 0 to 6 years old. Yup, it's like they have a secret language decoder ring! Their little brains are like sponges, soaking up new words, sounds, and expressions with remarkable ease. By splitting their school days into two languages, students at The Garden quickly and effortlessly begin understanding and speaking these languages within only a few weeks.
An international mix of children attend the Garden Academy's bilingual preschool in Paris, some who have already been exposed to and acquired these two languages, and several children who are being introduced to them for the first time. Our professionally trained staff, comprised of Native French and Native English-speaking educators, adapt to our students' levels.
Bilingualism, or even multilingualism, is like having a superpower. Acquiring multiple languages gives them more mental muscle to flex, easily adapting to different situations and nurturing open-minded thinking – It's a strategic start for a global citizen in the making who carries a key to unlock a multitude of doors throughout their lives!
Are You Looking for a Bilingual Montessori Preschool in Paris?
The Garden Academy has three bilingual preschools in the heart of Paris in Paris 5, Paris, 7, and Paris 15. In addition to our 3 bilingual preschools, we offer 100% Immersive English afterschool workshops, as well as English camps over all school vacations for children 0-10 years old.
Like our afterschool English workshops, our English camps in Paris offer students a wide variety of themed activities that include, music, theater, and sports and welcomes children of all English levels.
Contact us at Hello@thegarden.fr to schedule a visit to one of our three locations in Paris today!