Are you wanting to buy books for your child in English but you don't know where to start? The big chains such as Amazon or FNAC provide neither a curated selection nor the advice that you need?
At The Garden Store, you can find a very large selection of children's books in English for all ages and all English levels. In our online store, you are able to select and sort directly by age range. Then, you can choose which books you like based on their front covers and summaries. Our shop is fully bilingual and allows every parent to easily find what they are looking for, no matter their level of English.
Our Advice for Choosing a Book That Your Child Will Like
Attached to our three immersive English schools in Paris, The Garden Store offers a range of books adapted to English learners. Our selection is informed by the latest trends in publishing as well as by children's tastes and interests. In our online bookstore, you can find all of the classics of children's literature as well as some new gems to discover. Our aim is to provide a large range of books to maximize the chances of finding a book that your child will enjoy.
To help you make the right choice, we have added a description for each book in addition to being sorted via age range. These descriptions provide a highly valuable indication of the level of English required to be able to learn whilst having fun. Be aware, your child's level of English is important, but equally, yours is too! When reading with your child, your level of English is important to take into account. If you aren't comfortable speaking in English, we recommend opting for a sensory book where your child can touch the pages, interact with pop-ups, listen to music and sounds, or perhaps a book with an audiobook option. Picture books or non-fiction books with lots of illustrations can also be a good choice. At the other end of the spectrum, if you're perfectly bilingual in English, don't hesitate to choose a book from above the age range of your child that you can read with them. If your child is just beginning to learn English, we suggest interactive books for example books with flaps that your child can lift. This adds a gaming element to the discovery of the story and to reading which in turn assists concentration and memory.
As a recap: we advise that you:
Choose the correct age range for your child but don't hesitate to browse other age ranges to see if there is a more appealing story for your child that remains within their English capabilities.
Select a theme that interests your child, such as dragons, animals, space… or characters that they know very well (Harry Potter, The Gruffalo among others of Julia Donaldson's characters whose books have been translated in several languages).
Opt for the correct format based on their English level and reading ability, sensory, lift the flap, a non-fiction book, a novel…
Books in English: A learning resource
The Garden Store works with large English publishing houses specialized in children's literature such as Usborne, Quarto, and MacMillan. When learning a language, books are excellent tools whether they are novels, non-fiction books, or audiobooks. A language is a succession of sounds that your child hears and then imitates. As such, books are precious vectors for learning. In a story, emphasis is placed on rhythm and sometimes on rhyme, and often on the flow of sentences using simple vocabulary. Do we not all have at least one book from our childhood that we can still recite today? Drawing their eyes and capturing their attention; telling a story aloud creates a pleasurable chain of sounds for the ear and in this way, a book is the perfect companion for your child when learning a new language. In our online bookstore, you will equally find bilingual books with text in French at the end as a way to enrich your child's vocabulary and help them perfect their language learning.
Some Ideas to Check out in our Store.
In our online bookstore, you can navigate our site easily in French and in English because, for all of our book summaries, we have provided a translation into the two languages. Moreover, you can make your choice with ease thanks to the indicated levels of language required. Here are some ideas to add to your list and fill up your bookshelves.
For children aged 0-4 years old:
Title: That's not my Pirate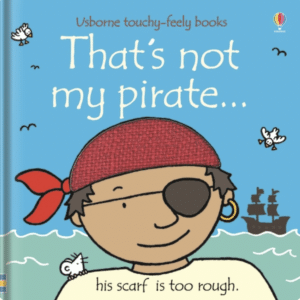 Publisher: Usborne
Price: 8.90 EUR
A book with simple and repetitive texts for the youngest of English learners. This book forms a part of the famous '' That's Not My…'' series. In our bookstore, you can also find That's Not My Unicorn, My Car, My Robot among many others.
Title: Gruffalo, where are you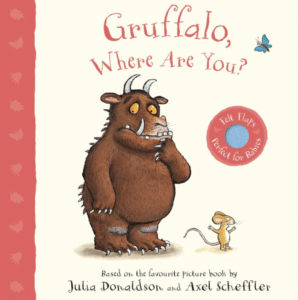 ?
Publisher: MacMillan
Price:8.90 EUR
An unmissable of children's literature that we also use in our schools. This version has been adapted for the youngest children and allows children to lift flaps to look for the Gruffalo.
Title: Don't Awake the Dragon!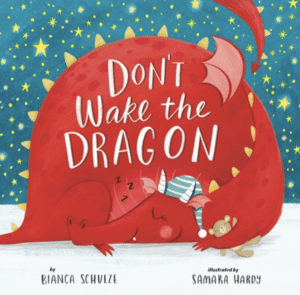 Publisher: Quarto
Price : 9.50 EUR
In this version of the international bestseller, the Dragon is finally asleep. But be careful, with every page your child risks waking up the dragon… will the dragon remain asleep until the very end of the book?
For children aged 5 – 7 years old:
Title:  First Thousand Words in English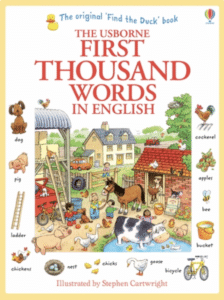 Publisher:  Usborne
Price: 9.90 EUR
A beautifully illustrated book, perfect for enriching the vocabulary of young English learners.
Title: Look inside an Airport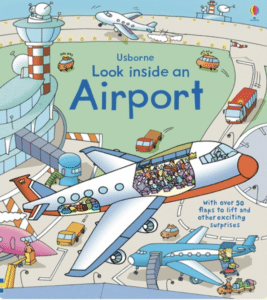 Publisher :Usborne
Price : 11.90 EUR
A playful non-fiction book on a topic that fascinates children. With numerous flaps to lift for those wanting to know everything about planes and how an airport functions.
Title: Broccoli's Big Day!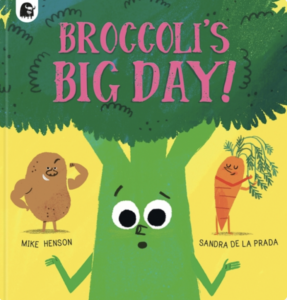 Publisher:  Quarto
Price: 17.90EUR
It's almost time for the annual prize for vegetables and everyone is gathering together to decide who deserved to be nominated. Broccoli unassumingly enters himself into the competition alongside his friend Carrot. Broccoli's Big Day is for children aged 5-7 years but is also suitable for younger children with a higher level of English.
For children and preteens aged 8 – 12 years old  :
Title: Pablo Picasso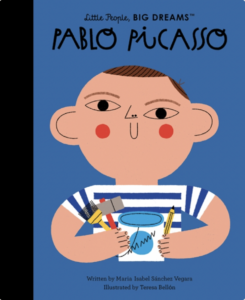 Publisher: Quarto
Price: 12.90 EUR
In this book from the series ''Little People, Big Dreams'' (a series that we are particularly fond of), your child will discover the life of Pablo Picasso, one of the greatest artists of the 20th century. The young Pablo grew up in a house of artists after painting his first painting at the age of nine. His father was an art teacher and helped to develop his talent…
Title : Albert Einstein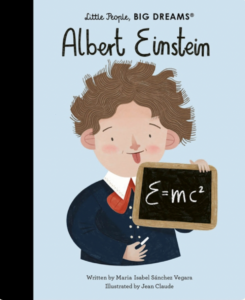 Publisher: Quarto
Price: 12.90 EUR
The young Albert developed his first words aged only 4 years old. Fascinated by how objects work and by books (even if he didn't like school), he became interested in math and physics at a very young age…
Title : The Book of Greek Myths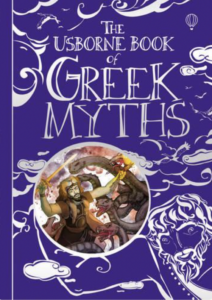 Publisher: Usborn
Price: 20.0 EUR
A treasure chest of Greek myths marvelously illustrated. A book filled with lively stories of courageous heroes, powerful gods, and horrifying monsters.
Children's Books in English for all Tastes and Abilities.
Over 150 titles are available in our online library for children aged 0-16 years old from fiction to non-fiction in a range of formats to suit your preferences be it sensory books, picture books, English-French bilingual books, audiobooks, or even Mangas for preteens and teenagers… you can choose among themes that your child likes: adventure books, non-fiction books about Space, tales of castles, knights, and princesses, from funny books to books on more serious topics. Furthermore, within our collection of books, we offer titles that your child will already be familiar with in French.
Worldwide delivery is managed by Chronopost or Colissimo and is sent by first class. For purchases in France, you will receive your order within 3-5 working days. All the delivery details will be displayed at the time of your order according to the information that you have provided.